New & Unique Videos - (619) 644-3000
Vintage Instructional Videos from the 1980s and 1990s
New and Unique Videos – Producer of Educational Videos and San Diego's First and Largest Stock Footage Library
In 1985, we started a company called New and Unique Videos under the umbrella of which we produced several educational and sports videos.  We were quite "mavericky" in that we pioneered several titles, such as "Massage For Relaxation," the first video on how to massage another, as well as yourself; "California Big Hunks," the first male erotic dance video; "Anti-Terrorism: Weapons & Tactics" the first anti-terrorism video, and "Common-Sense Self Defense For Women," the first women's self-defense video.
As we ourselves discovered a passion for the sport of mountain biking, we went on to produce several of the world's first educational mountain biking videos.  The first was "The Great Mountain Biking Video" (1987).  Next came "Ultimate Mountain Biking: Advanced Techniques & Winning Strategies.  We followed that title with "Lessons in Cycling" starring Olympian and consummate road cyclist, John Howard.  John imparted the wisdom he had gained over years of competing and winning road races.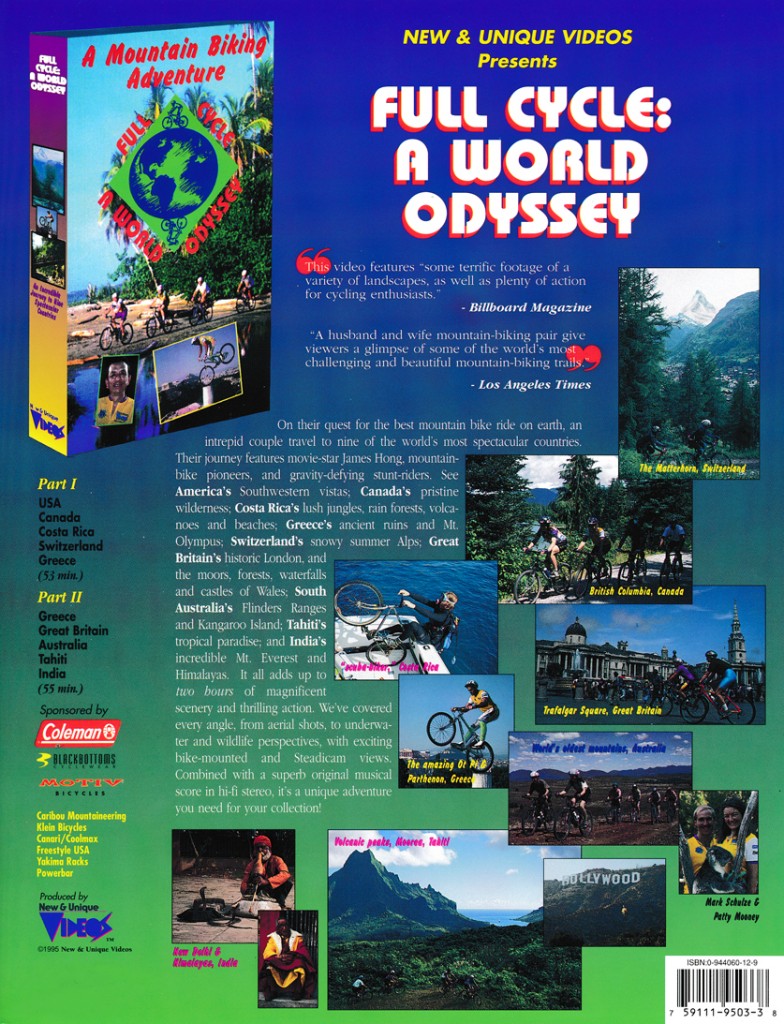 In 1993 and 1994, we produced a documentary called "Full Cycle:  A World Odyssey" which contains several worlds' firsts, including scenes of the first-ever underwater mountain bikers (off the coast of Costa Rica), the first mountain bikers to ride into the Turrialba Volcano (Costa Rica) and among the first mountain bikers to participate in the First Mt. Everest Mountain Bike Rally.
We took all the clips we shot around the world, and made them available as San Diego's first stock footage library.  We have been on many stock-footage collection trips over the last couple of decades to places around the world and have amassed hundreds of hours of new and unique clips.  Our corporate and small business clients appreciate the access to stock footage that we offer because it adds a special dimension to their video productions.  We have worked with a multitude of clients who have utilized our clips in their productions, including IBM, Disney, The Tonight Show, Real TV and many others.