Mountain Biking India
What a gorgeous day in October 1993 it was when our small (three-person) video production crew arrived in the lovely town of Gangtok, Sikkim, India. My husband, Mark Schulze, and I had decided to participate in the First-ever Himalayan Run and Mountain Bike Trek, and to document it in our video, "Full Cycle: A World Odyssey." So our friend, Mark Eveslage (aka "Marco"), decided to join us on this "endless summer on wheels" as Director of Photography.
This was 1993, remember, and I believe this was one of the first "reality shows" ever taped. It did end up winning 15 national and international awards, but it was never broadcast on television. My feeling is that it was a little too far ahead of its time.
Our arrival in Gangtok was the culmination of two nights on an airplane, flying from San Diego to New York. We then boarded another plane to London.  From there, we flew to Bombay. The name of this town since changed to Mumbai in 1996; I'm not sure why so many places in this part of the world are re-named. Is it like redesigning and renaming a restaurant or a night club to stimulate more business? Anyway, from Bombay we landed in New Delhi at around 3 in the morning.
From New Delhi we hopped aboard a variety of buses and jeeps that carried us deep into the hills and dales of the Himalayas.  By the end of the day we had arrived in the tea town of Darjeeling where we "rested" and collected some footage of the area for the next couple of days.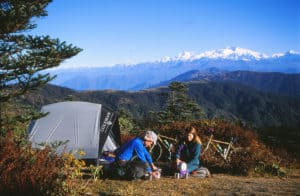 And then finally we arrived in Gangtok. The two Marks and I were a bit surprised, amused and a little embarrassed to see a banner slung across the main thoroughfare.  It proclaimed: "Hearty Welcome to Sikkim – All Foreign TV Team and Participants of Gangtok Run and Trek." "Foreign TV Team?" By golly, they were talking about the three of us!
In 2010, I participated as a sound technician on a reality show that Oprah was producing here in San Diego. For this show, there were two camera crews (each with a camera operator and sound technician). Then they had a third camera operator with sound person whom they brought in when an additional crew was needed. Plus there were five or six other people helping out with other aspects of the production. AND craft services.  Sweet!
If only we could have had half that number of people to assist us, along with some craft services people! Imagine three people carting 900 pounds of equipment around from San Diego to Darjeeling. We had three bikes between us because Marco wanted to ride the amazing yak trails of India. Then there was all this heavy video equipment.  That is not to mention our clothing and foods like Power Bars and cans of tuna, to supplement the typical Indian fare of overcooked vegetables and dahl soup. Coleman was our major sponsor.  So we also had a tent and camping essentials so we could set those up with the Himalayas as a backdrop. When I think back on how the three of us managed to get from Point A to Point Z, without blowing a few gaskets, it's truly amazing.
We did have several "production meetings" during which we would talk about what kinds of scenes we wanted to shoot. Both Mark and Marco had come from the school of scripting everything.  But my idea was to document whatever happened as it happened – the way reality shows now go about it.
It was an extremely ambitious production.  But we were all young and studly at the time, so we made it work.
One precious moment occurred when Mark, Marco and I went on a location scout expedition across a rickety bridge.  There we spotted this delicious singletrack trail through a field of cardamom. Marco and I hopped aboard one of the bikes and sped down the singletrack like a couple of big kids.
Then the two Marks and I decided to visit the Gangtok Buddhist Monastery, and shoot some of the beautiful murals on the walls.
One of the murals featured a tall white guy with red hair and a beard hanging from a noose. When we saw that, we all looked at each other. Of course Mark E was the most concerned of the three of us.  That's because the guy in the image looked like his doppleganger. We promptly left.  Then we headed back to our room for a cup of cocoa spiked with some Fireball Brandy we had managed to purchase at a local shop. This stuff was more like kerosene, but the cocoa made it a lot more palatable.
 We brought a bottle of Fireball back with us.  It sits on the liquor shelf, untouched for the last 25 years. I don't know if it's gotten any better with age. We haven't had the nerve to crack it open.
Here's a short video I edited from those wild India adventures, featuring me, the "Crash Queen!" It'll give you some of the flavor of that awesome journey in India. I hope you enjoy it!
---
Patty Mooney is a VP, Video Producer, Sound Technician, Teleprompter Operator and Video Editor at award-winning San Diego video production company, Crystal Pyramid Productions.