Battle At Durango
First-Ever World Mountain Bike Championships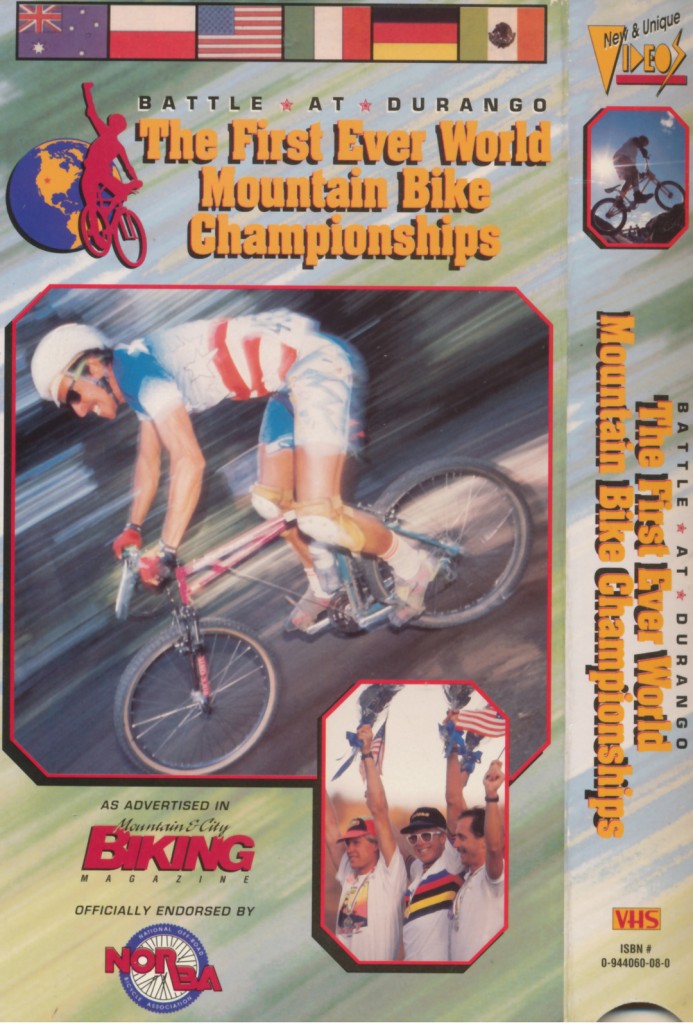 First-Ever World Mountain-Bike Championships Captured on Home Video
Inside a decade, the intrepid sport of mountain biking soared to unprecedented status.  In September 1990, the world linked wheels at the first-ever unified World Mountain Bike Championships in Durango, Colorado.  This "natural phenomenon" drew involvement from those who began the sport to those who scaled it to worldwide proportions.  Major-league sponsorship, rainbow jerseys, and a pride o the world's finest riders demonstrated that mountain biking had come of age.  The week-long affair was like a cosmic prom held in the breath-taking, head-spinning Rocky Mountains.
The beauty, excitement and drama of six historic days in the mountains are captured in this one-hour home video.  A montage of multiple-angle, helmet-cam, aerial and bike-mounted footage chronicles the sweat and dust, beat of the climb, and roar of the descent.  One dazzling backdrop dissolves into the next as riders challenge the unyielding mountain angls, thin air, themselves and each other in a sport that emphasizes technique and endurance, camaraderie, and respect and enjoyment of Nature.
In the crucial Cross-Country Championship, 35-year-old hometown favorite and father of two, Ned Overend, dices with young Thomas Frischknecht of Switzerland and a squad of hungry contenders for 36 grueling miles to emerge victorious.
In the Women's Championship, American Julie Furtado, a relative newcomer to mountain biking, seizes the Cross-Country win from established national mountain-bike champion, Sara  Ballantyne.
Of special interest are the World Championship Downhill races.  Greg Herbold, a Durango resident, charges down the 1,500-foot rocky ski run in a sizzling 6 minutes, 36 seconds, on the edge of control. Canadian Cindy Devine glides down in 7 minutes 40 seconds, just a split-second faster than her teammate and major competitor, Elladee Brown.
The Hill Climb, Dual Slalom and Observed Trials events are featured with performances by more of the world's top riders.  With a fast-paced original musical score (in hi-fi stereo) and pro interviews, "Battle At Durango: The First-Ever World Mountain Bike Champinships" unfolds history in hypnotic fashion, promising to become a special-interest video classic.  Never has a mountain-bike race been more thoroughly and masterfully recorded.
"Battle at Durango" is presented by New & Unique Videos in affiliation with the National Off-Road Bicycle Association (NORBA) with sponsorship from Mountain & City Biking Magazine, Raleigh Cycle Company of America, PowerBar, Mountain Bike Specialists and Aussie Racing Apparel.
The action and inspiration of the first ever World Championships at Durango, Colorado, endure in this spectacular award-winning race documentary that covers the grueling struggles, fierce competition and undaunted glory of six momentous days.
The Wild-West town of Durango in its vivid autumn splendor provides a dazzling mountain backdrop as contenders engage in brutal skirmishes leading to the final, spirited battle when the victor captures the coveted world-championship gold medal and rainbow jersey. With a staggering array of the world's top racers, original musical score (in hi-fi stereo) and pro interviews.
Featuring Ned Overend, Juliana Furtado, John Tomac, and a host of others. An American classic.
Reviews & Endorsements
This release should be a hit with mountain bikers everywhere.  Battle At Durango is a highlight tape of the first-ever World Mountain Bike Championships in Durango, Colorado, in 1990.  Many of the pros seen in Ultimate Mountain Biking can be viewed battling for the coveted world-championships gold medal.  It features spectacular scenery, original music score, race footage and pro interviews.  Fast-paced action and sharp quality make this tape fun viewing for everyone. – BILLBOARD  MAGAZINE
Mountain biking at its best… Experience the excitement of the first-ever World Mountain Bike Championships on video with the Battle At Durango.  This one-hour documentary covers the fierce competition at Durango, Colorado, and features pro interviews. – OVERSEAS!  MAGAZINE
Video depiction of the six-day, unified World Mountain Bike Championships held in Durango, Colo., September 1990.  A montage of the races and racers accompanied by an original musical score in stereo.  A portion of each sale goes to land access groups. –  AMERICAN  BICYCLIST  MAGAZINE
…An hour-long package of each and every event, capturing the grueling hill climb, hair-raising downhill, exciting dual slalom, and dramatic cross-country races.  They even have the observed trials and qualifying downhill and cross-country races.  You'll witness some of the most fierce competition, backdropped by some of the most exquisite mountain scenery this country has to offer.  You'll see just how tough the sport of mountain biking can be, and how the Americans came away with the lion's share of gold medals, victorious over challenges from over 20 countries, including crushing wins in both the Senior Women's cross-country by Juliana Furtado  and Senior Men's cross-country by the super-human Ned Overend.  The video is of the highest production quality, including helmet-camera footage, bicycle-mounted photography, and even aerial shots.  If nothing else, this video captures brilliantly history in the making, but moreover it's an exhilarating account of one of the most exciting and popular sports today.  Along with hot racing footage, you get interviews with the pros and an original music score backing the action.   – MOUNTAIN  &  CITY  BIKING  MAGAZINE
…The chance to relive Ned Overend  winning the prized gold medal at the Durango Worlds in the comfort of your living room is almost as inviting as going out for a ride! – MOUNTAIN  BIKE  ACTION  MAGAZINE
Any true videophile mountain biker's library is incomplete without a copy of the 1990 World Championship video, Battle At Durango, if for no other reason than the soundtrack.  The original score features 'The Aphid Stomp'  by the Aphids, and the reason this is so important to me is that I play in the band and co-wrote the song.  I think Ned Overend appears somewhere in the video too, but I could be wrong. – Charles Kelly,  BICYCLE  GUIDE
Off-road two-wheelers will enjoy Battle At Durango: Mountain Bike World Championships. – VIDEO  SOFTWARE  MAGAZINE
The 1990 World Championships at Durango, Colorado, may be over, but action and inspiration endure in this spectacular race documentary… The video captures the action using eight broadcast cameras and a multitude of different angles… Original music score, pro interviews and a delightful pre-championship ride with Overend add up to a highly entertaining and historical home video designed to thrill and inspire cycling aficionados for years to come. – NORBA  NEWS
With world-class fanfare, Durango, Colorado, hosted the first mountain bike championships in September 1990.  While entrants from Colorado and California predominated, participants from other states and foreign countries also exhibited their skills.  Separate races for men and women included hill climb, downhill, cross-country, and dual slalom competitions and trial events.  Agile camera work captures the intensity of the competition as riders strain uphill, hit holes, or jump bumps.  Celebrating the winners, this senic program will enthrall both enthusiasts and viewers new to mountain biking.  Ages 12 – adult. – BOOKLIST
A culmination of the combined hard work and effort of the people of Durango, Colorado, the racers from around the world, the spectators, the promoters and sponsors, the film crew, and those who started the sport.  Their labor of love shows through.  – OCSD  FILM  &  VIDEO  NEWS
Girato con diverse telecamere, tra cui una montata direttamente sulla bici di "king" Ned Overend durante una prova del tracciato di cross-country, il video mostra in maniera appassionata i sei giorni della competizione, partendo dalla cerimonia di apertura fino a terminare can le premiazioni delle gare di cross-country. – TUTTO  MOUNTAIN  BIKE, Italy
The First Ever World Mountain Bike Championships  is aimed directly at the knowledgeable fan.  That's no surprise, inasmuch as New & Unique specializes in mountain bike videos, and is responsible for 'Ultimate Mountain Biking,' — probably the best of the numerous, off-road, how-to tapes… The world's video takes a complete look at the entire, six-day event (from the opening ceremonies to the finish of the last race), highlighting nearly ever race, including junior and veteran classes, and giving the results of every category.  A comprehensive and exciting program (with) close-ups of riders suffering on the ascent, along with footage from bike-mounted cameras and interesting aerial shots from the ski lifts overlooking the course…  As might be expected, some of the video's most exciting visuals came from the downhill part of the cross-country, and the downhill event itself.  A generous portion of the tape is devoted to this discipline, and the thrilling descents of Greg Herbold, John Tomac  and others.  The judicious use of slow motion gives us some idea of just how rigorous and electrifying an event this is….     A point-of-view camera is perhaps given its most interesting assignment in the observed trials, when we're taken along for a "ride" with winner, Hans Rey,  as he hops and bounces over rocks, culverts and other obstacles…. –   VELO  NEWS
New from New & Unique Videos:  Battle At Durango: The First-Ever World Mountain Bike Championships.  It's one of a variety of special interest tapes available from the company.  – VIDEO  INSIDER
New & Unique Videos vous propose la video des premiers championnats du monde unifie.  Allongez-vous sur votre sofa, vous assisterez alors a la descente infernale du Purgatoire, l'epreuve de montee, le cross country, le trial et le spectaculaire slalom parallele!  Soixante minutes d'interviews, d'action non stop, de prises de vues aeriennes et de cameras montees sur les guidons vous transporteront dans l'ambiance incomparable des championnats. – VTT  MAGAZINE, France
Funny helmets and Spandex pants abound in New & Unique Videos' Battle At Durango: The First-Ever World Mountain Bike Championships. – VIDEO  STORE  MAGAZINE