New & Unique Videos - (619) 644-3000
Vintage Educational Videos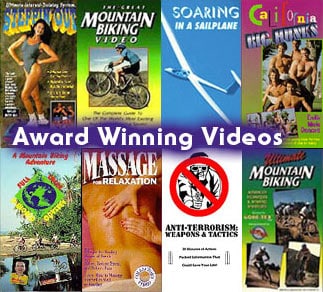 What could be more entertaining than watching educational videos? 
Producing one.  "Our primary goal is to entertain and educate ourselves and others.  We want to produce high quality videos for diverse audiences, and have fun while doing it."
This is the mission statement of Mark Schulze and Patty Mooney, a husband/wife team who own and operate Crystal Pyramid Productions and New & Unique Videos.  Since 1985 they have produced a dozen educational and/or entertainment titles.
Their most far-reaching endeavor is "FULL CYCLE WORLD ODYSSEY,"  a mountain-bike travel adventure to nine spectacular countries.  Mooney and Schulze are passionate about the sport of mountain biking, considering they were married in the summer of 1987 in the Cuyamaca Mountains on their  mountain  bicycles.
The best seller is "CALIFORNIA BIG HUNKS."  "We shot at about ten different locations and generated a lot of excitement among the local women," says Schulze.
"MASSAGE  FOR  RELAXATION"  is a tape that was produced almost ahead of its time.  It teaches you how to massage yourself as well as another person.  It's a great companion tape for any of the dozens of work-out tapes on the market.  Once you exercise your body to its potential, you should reward it with the relaxation techniques you'll find in "MASSAGE  FOR  RELAXATION."
The most modest tape budgetwise was "ANTI-TERRORISM:  WEAPONS  &  TACTICS"  which also turned out to be one of the most popular.  Police departments, security organizations and people concerned about terrorism in today's society purchase it as a resource  video
"If there's one thing we've learned from our many years of producing and distributing videos," says Schulze, "It's this:  Do what you love and love what you do.  It gives your creation — whether a video or other product, or a service — the positive edge that people want."
Our videos have only been available on VHS videotape until now.  You can now see our instructional home videos from the 1980s and 1990s  at Vimeo On Demand whenever you feel like it.
"Soaring In A Sailplane"
"Common Sense Self-Defense For Women"
"Anti-Terrorism: Weapons & Tactics"