Lessons in Cycling
With John Howard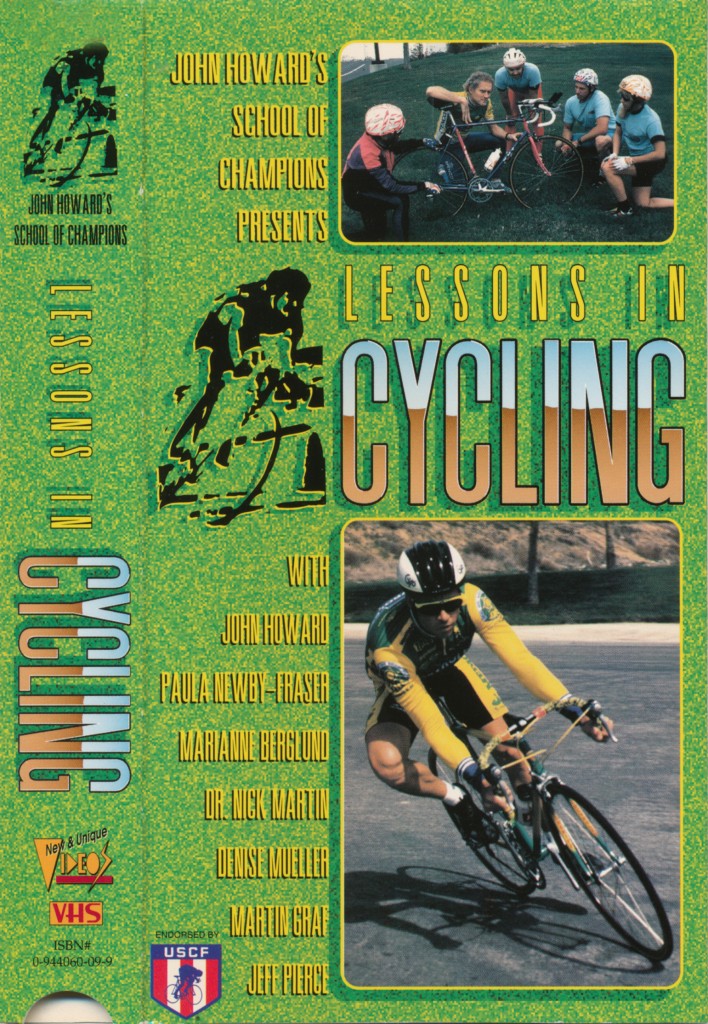 INTERNATIONAL FILM & TV FESTIVAL OF NEW YORK Silver Medallist
NATIONAL TELLY AWARD
Legendary World-Record-Holder and Olympian, John Howard, shares the hard-won secrets of his 30 years of success as a racer and coach.
Improve your power through correct body position, shifting, braking and attitude.
Become one with the pack through smooth pace line and echelon maneuvers. Learn how to build your own training program and what it takes to win.
Features Jeff Pierce, Marianne Berglund, Martin Graf, Paula Newby-Fraser, Denise Mueller and Dr. Nick Martin.
This video combines basic and advanced techniques in an easy-to-follow, hands-on format, and challenges you to transcend your cycling limitations. Are you up for the challenge?
John Howard, Legendary Cyclist, succeeds in everything he sets out to do. It's not because he is the luckiest man on Earth or the most gifted athlete ever to straddle a bicycle seat. The reason John Howard wins races, sets records, writes books (The Cyclist's Companion, Multi Fitness, Dirt), creates world-class athletes and motivates business professionals to higher income levels is because of his commitment to excellence.
As a highly competitive athlete for the past 30 years, Howard has developed unique mental and physical skills necessary to win. It is called the Howard Performance Technique.
John Howard has worked as a color commentator for CBS Sports & WGN cable network. He currently serves as the head coach of the U.S. National Triathlon Training Center in San Marcos, California. Howard was featured on "That's Incredible" several yers ago and was interviewed on "The Tonight Show" back when Johnny Carson was at the helm. Howard also leads motivation seminars and fitness workshops nationwide.
His southern drawl and unassuming nature charm audiences wherever he goes.
John's list of credits includes:
* 7-time USCF National Champion
* 3-time member of U.S. Olympic Cycling Team
* Pan American Games Gold Medalist
* 2-time winner of the Red Zinger Classic
* Winner 1000 mile Tour of Baja
* Winner Tour of Newfoundland
* Winner of the Tour de L'Estre
* Ironman Triathlon World Champion
* World record holder for 24 hours – 512 miles
* World speed record holder 152 mph
Reviews & Endorsements
The world's fastest man on a bicycle reveals the best techniques from his 25 years of cycling experience. – VIDEO SOFTWARE MAGAZINE
John Howard's Lessons in Cycling is geared toward the serious on-road cyclist. Ironman, Olympian and Guinness' world's fastest man on a bicycle, John Howard distills over 25 years as a racer and coach into a one-hour feature. Learn techniques to increase your power, comfort and safety in the pack. Learn about fluid replacement and diet. Design your own optimum training program. …The tape is endorsed by USCF. – COMPETITOR MAGAZINE
John Howard's Lessons in Cycling is topped with tips and techniques for the cycler. Howard, the fastest man on a bicycle, takes the viewer to his own training grounds in southern California and adds footage from around the country. Tips include tools for ultra bike fitting, energy efficient body positioning, power techniques, comfort and safety. – VIDEO DIGEST
New & Unique Videos, San Diego in association with John Howard's School of Champions recently completed John Howard's Lessons in Cycling, the hour-long video featuring John Howard, the holder of the 1985 bicycle world land-speed record of 152 mph… – Orange County/San Diego FILM & VIDEO NEWS
This program is suitable for anyone from adolescents to senior citizens. It would be most useful in a public library but has a broad range of appeal and would fit into any school collection. The information is authoritative… John Howard is a convincing, enthusiastic speaker… The tape receives high marks technically. Picture and sound are well done… This video would be a good addition to any public library or personal collection. The most interested parties would be those wanting to take up or improve their skills in bicycle riding. – VIDEO RATING GUIDE FOR LIBRARIES
New & Unique Videos, a company specializing in health and sports videos, announces the latest installment in a series on biking. John Howard's Lessons in Cycling lists at $29.95 and is available now. Other titles in the series: Full Cycle: A World Odyssey, The Great Mtn. Biking Video, Ultimate Mountain Biking: Advanced Techniques and Winning Strategies and Battle At Durango: 1st-Ever World Mtn. Bike Championships – VIDEO STORE MAGAZINE
Road racers, triathletes and Tour de France hopefuls will all find a veritable treasure trove of hard-won secrets from the Ironman and Olympian, John Howard. – CALIFORNIA BICYCLING MAGAZINE
John Howard distills 25 years as racer and coach in a 1-hour video on bike handling, positioning, training and nutrition. Plus footage of Howard's 152 mph speed record at Bonneville Salt Flats. – SOUTHWEST CYCLING MAGAZINE
Here, bicycling champion and trainer John Howard shares his more than 25 years of experience. Aimed at both the beginning and advanced racer, Howard's techniques emphasize safety — the principle of "defensive aggression" — as well as speed. While geared toward the bicycle racer, much of the information is useful for those interested in long-distance bicycle touring. – LIBRARY JOURNAL
…John Howard is considered a "guru" in some circles for his views on positioning, training and psychology. (The video) opens with a detailed explanation of bike fit, in which Howard lays it on the line for the tech-weenies: "It doesn't really matter if (a bike is) made of graphite, steel or aluminum — the main consideration is fit." Lessons in Cycling will teach the beginner many of the fundamentals that some racers need several seasons to learn. – VELO NEWS
John Howard's been dabbling in home video, and it's strictly legit. In fact, this one's a considerable boon to those of you who are just starting out in the sport or want some helpful tips… Howard carefully walks you through the fundamentals. A solid 55 minutes of important information that can enhance your cycling safety, comfort and performance. – TRIATHLETE MAGAZINE
Beginning racers will appreciate the new video, John Howard's Lessons in Cycling ($30). Basic bike-handling skills such as climbing and cornering are covered well, and paceline riding is clearly explained. Aerial footage is used effectively to describe descents and echelons… Novices and Category 4 and 5 riders can save some hard knocks by studying this tape. – BICYCLING MAGAZINE
In this engrossing feature, famed World-Record-Holder, Olympian and consummate Cycling Champion, John Howard, reveals the hard-won secrets of his… success as a racer and coach. John puts you into the saddle and harmonizes your bike position, assuring a balanced bio-mechanical and aerodynamic profile that may shave minutes from your next race. Become one with the pack through the practice of smooth pace line and echelon maneuvers presented here. Learn how to build your own training program and unravel the mysteries of fluid replacement and diet – what it takes to win. Lessons In Cycling combines basic and advanced techniques in an easy-to-follow, hands-on format, and challenges you to transcend your cycling limitations. – CYCLING U.S.A.
New & Unique Videos and John Howard have put together an instructional video for the budding bicycle racer…Lessons in Cycling includes information on: bicycle fitting, body positioning, pack riding, bicycle handling and diet. An ace team of champions will guide you around tight corners, on flats, ascents and descents. Observe the no-nonsense cornering of Jeff Pierce; the fine clockwork pace of Marianne Berglund; the raw cruising power of Martin Graf; life-saving "hot stop" by Paula Newby-Fraser; invaluable training tips from Sports Nutritionist Dr. Nick Martin, and bicycle fitting guidelines with Denise Mueller. Lessons In Cycling also showcases historic footage of Howard's first attempt to break the world land-speed record in Baja, California in '83, and his Guinness-Book achievement at the Bonneville Salt Flats two years later at 152 mph.
– BICYCLING SAN DIEGO MAGAZINE
World-class cyclists demonstrate techniques that enable viewers to perform more efficiently. Whetting appetites with guitar music and mountain scenery, the appealing program features Olympic competitor John Howard [and other] experts who show how to corner, climb, descend, stop, ride in a pack, and train. Also addressed are the amounts and kinds of fluids racers need. Professional athletes Paula Newby-Fraser and Martin Graf, among others, will attract bikers of all levels to this well-organized production, which features lucid explanations, captioned summaries, and good camera work. Ages 16-adult. – BOOKLIST
Now there is a home videotape that can enhance your life in staying fit and competing in sports. John Howard has put together Lessons in Cycling for avid on-road cyclists and newcomers to the sport. An Olympic and cycling champion, Howard is in the Guinness Book of World Records as the fastest man on a bicycle, a mind-boggling and face-bending 152 mph. In addition to basic and advanced training tips, the 55-minute production features action-packed race footage. Howard's video informs viewers how to discover the best tools for ultra bike fitting, achieve energy-efficient body positioning, and design an optimum training program. – ENCINITAS DISPATCH
If you want a fuller version of John Howard's tips for riding like a champion, possibly to share with your local club or even while riding an exercise bike in your own living room,… purchase… Lessons in Cycling. In this video,… Howard leads the aspiring champion through the topics of buying and setting up a bicycle, riding techniques, fluid replacement and diet and training schedules. Throughout, Howard emphasizes that the aim is to give any serious cycling not just greater speed, but greater comfort and safety on the bicycle. The value of the information presented has been proven by both Howard and other champions over his 25-year career as a racer and coach. Howard makes his points clearly and vividly, moving in each segment from classroom explanations to demonstrations on the road with world class champions. A "bike-cam" is used to give the view from the bicycle as riding techniques are demonstrated. The serious, solid information is leavened by a few touches of humour, drama and excitement. During the opening credits we see Howard during his record-breaking 243 km/h ride on the salt flats of Bonneville, Utah. Later there's an all-too-graphic demonstration of the effects of overlapping wheels in a pack. Howard, assisted by top-performing racers, imparts a wealth of clear principles and special tips for getting that extra little edge in performance. – AUSTRALIAN CYCLIST
John Howard's Lessons in Cycling has won the International Film and TV Festival's silver medal in the home-video category and a Telly in the 13th annual Telly Awards competition in the same division. The video is geared toward serious on-road cyclists. – TEXAS ATHLETE MAGAZINE
John Howard is, with the exception of Greg Lemond, the most recognizable name in U.S. cycling. Pan-Am gold medalist, two-time Olympian, holder of the world speed record (152 mph), winner of the 1981 Ironman, runner-up in RAAM — the list goes on… In the past few years, however, his priorities have shifted from those of a competitor… to those of a teacher. His passion now is helping others reach their potential… Is Lessons in Cycling a good buy? Absolutely… I'd be extremely surprised if you didn't think it well worthwhile. – TRIATHLON TODAY