Cycling Belize – by Helen Young
Cyclists tend not to head to Belize for bike touring.  But cycling can be a great way to see the country, especially the smaller towns and villages, and the gorgeous southern region.
Biking around in Belize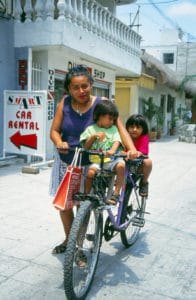 Backpacking and biking tours of Europe are one of the most popular ways to see this continent.  But it's not nearly as common for people to head to Central America for the same reason.
There's a perception among many people that it's a dangerous place to travel,  But if you travel with other people, and stick to the better-traveled parts of the region, it's not necessarily less safe than any other country or continent.
Avoid the Back Roads
As in many other parts of the world, it might be prudent to avoid back roads.  Not just because of safety and security problems, but also because in some locations road conditions may not allow for easy travel. Comprehensive insurance, including coverage for your bike, is essential if you're bringing your own equipment into the country. But if you're traveling with a tour operator, that may not be necessary. Generally, sticking to main roads provides both safety and good road conditions.  And by researching the region, planning your itinerary carefully, and traveling with a good area map, you can minimize risks, including the risk of theft or damage to your bike and other valuable possessions, such as phone or camera.
The Best of Belize, North to South
Travelers who journey by bike have a view of the world that's absolutely unique. Getting around by bicycle means that what you see while you're getting from place to place is experienced on a more personal level than if you're traveling by car, bus or train. A walking tour can provide the same personal level of experience,  But the pace of travel is typically too slow to allow a traveler to see everything they want in the time they have. Traveling by bike combines the best of both approaches, with the personal mode of transport moving at a much faster pace.
And there's no shortage of things to see and experience while traveling through Belize, from the ancient Altun Ha ruins on the Old Northern Highway, to the villages that line the Western Highway, also known as the George Price Highway. This latter road has plenty of roadside restaurants and hotels as well as some gorgeous scenery, making it perfect for a cycling tour.
Central Belize
The central part of Belize is bisected by the Hummingbird Highway.  It is situated between Belmopan and Dangriga, and considered one of the most beautiful stretches of road in the country. The highway is 55 miles long and surrounded by citrus plantations, jungles, and rock crags, with a distant view of the Maya Mountains.
Traveling in the north of Belize is a breeze, as main roads are in good condition and there are plenty of places to stop during the day or for the night; however, in the southern part of the country there are fewer roads, and the roads tend to be in poorer condition too. The south part of the country has some of the most scenic views, so it's definitely worth visiting, but it's important to bear in mind that there are far fewer towns and villages, and it's better suited to experienced and independent cyclists who are prepared to rough it if necessary.
Group Biking Tours and Day Trips
For travelers who are more interested in cycling day trips rather than a full cycling vacation, there are lots of place that are ideally suited to half day and full day cycling tours. In particular, it's easy to rent bikes in coastal cities like Dangriga and Belize City.  There's plenty to see in and around the cities. In west central Belize, the Cayo District provides the opportunity for guided tours to locations like Clarissa Falls and the ancient Mayan site of Xunantunich.
One point to note, when booking biking tours and day trips, is to choose a trip of an appropriate difficulty level for your level of fitness and experience. As well as this, be aware that in some regions, bike tours that are advertised as easy or moderate can quickly become more challenging in wet weather.