Charles Schulz Museum
If you ever travel to Santa Rosa – perhaps because Sonoma produces some of the world's greatest wines – be sure to check out the Charles Schulz Museum.  It's the home of the Peanuts characters.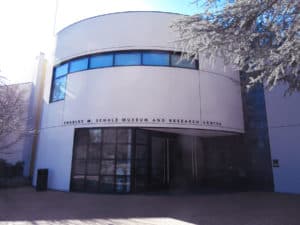 As a child I remember vying for the "Funnies" section of the morning newspaper once Dad had finished reading it.  I had five siblings and we all loved reading the Funnies.  Peanuts was my favorite comic strip.
When I grew older, I found out I had been named after one of the Peanuts characters, Patty.  Not Peppermint Patty, who came later, but Patty, one of the first characters penned by Charles "Sparky" Schulz. Patty wore a ribbon in her hair that matched her dress.  She and another character called "Violet" used to gang up on poor Charlie Brown.  As the comic strip evolved, Lucy became an embodiment of both Patty and Violet, who sort of faded into the background and were no longer central to the strip.  Then came Peppermint Patty.
It was fun going into the museum and finding out this history of my namesake.  Also, you could see how Charles Schulz thought out his comic strips and and executed the drawings in a large format that was then scaled down to fit into the Funnies section of newspapers across the nation.
As many of you know, Santa Rosa recently suffered catastrophic wildfires that wiped out homes, buildings and property.  This includes the actual home of Charles Schulz, unfortunately.  But the museum, guest shop and ice rink where are all still standing.
My husband and I enjoyed strolling through the museum and gift shop.  We would highly recommend going there.  The kids will love it, and so will adults who are still kids at heart.
---
Patty Mooney is a VP, Video Producer, Sound Technician, Teleprompter Operator and Video Editor at award-winning San Diego video production company, Crystal Pyramid Productions.