California Big Hunks
Six Hot Hunks from 1985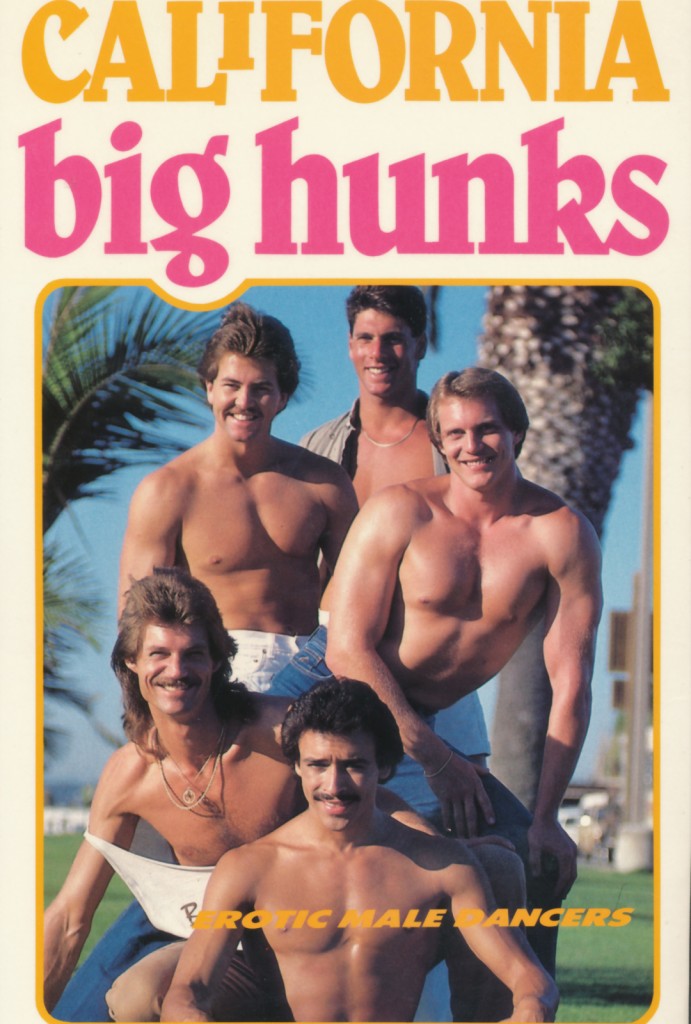 The muscle, the sweat, the sinuous symmetry of the male form in motion. This vintage video contains six of San Diego's sexiest male nightclub dancers in an exciting one-hour video, filmed in 1985. From fashion, film and television, these are the guys worth watching. See these gorgeous men strip down to the "barest necessity" and dance provocatively.
This video thrusts you into the sensual fantasies of six delectable men as they strip it off (including Mr. Erotic, Mr. Sensuality and the Most Watchable Male title-holders).
"California Big Hunks" reveals the adventures of Jim, a leather-clad motorcycle cop stripping it off in an elegant bedroom; Reno, a modern-day Tarzan heating up the jungle; Donny, a street-wise stud exploring a stone ruin; Dave, a cocky cowboy back at the ranch; Michael, a classy gent in a steamy gym; and Prince Daniel, a hot-blooded hunk who burns up a haunted disco.
High production value, special effects and an original musical score make "California Big Hunks" a gift of pleasure for lovers, friends and yourself! Get your hands on these hunks now.
It's almost impossible to believe that someone would release a male-stripper tape that doesn't go all the way — all the way down to frontal nudity — when [other titles] have, literally, bared everything. Be that as it may, "California Big Hunks" is a dazzling production, giving the viewer, instead of frontal nudity, one clever sexual fantasy after another, well-conceived, well-choreographed, and extremely well executed. From a traffic cop who fantasizes about taking off his uniform in the bedroom of the woman he is ticketing to a businessman who takes out his sexual frustration in the gym after he is stood up in a restaurant by his date, "California Big Hunks" combines clever tableaux with handsome, well-built, sexually appealing men who have screen presence. Even with its physical tameness, this video generates sexual excitement. – ADULT VIDEO NEWS
There are plenty of rippling muscles, humping hips and bare buns… The fashion model teases viewers through a locker-room routine that recalls the spontaneity of Tom Cruise's performance in "Risky Business." Females will stampede to the sell-through counter to experience these hunks firsthand. – BILLBOARD
Their curves are more dangerous than the Indianapolis 500; their moves more teasing than a five-dollar hooker; and the appreciation shown to them is more overwhelming than a ticker-tape parade. They are not conquering heroes, fearless daredevils, or even Washington politicians … these are the HUNKS of "California Big Hunks!" Their performances are carefully rehearsed to get the most out of each bump and grind (though it seems that one-handed push-ups are status quo). If these were Gay exotic dancers, would the fantasy be greater — or do these straight studs arouse even more excitement by being unattainable? Just remember, they are just little boys under all that hulk and beef. – BRAVO!